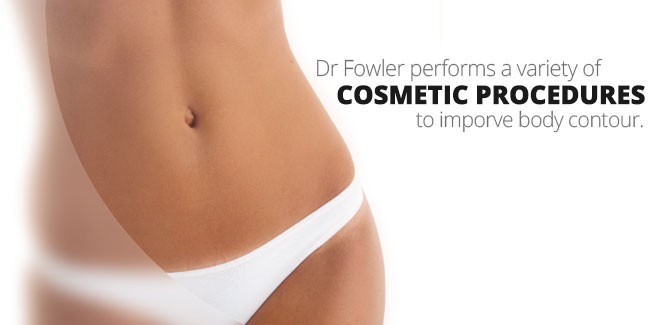 Cosmetic surgery involves shaping the body to a more desirable figure. We offer small and large volume Liposuction, Buttock Fat Transfer, and all forms of Body Contouring Surgery. We pride ourselves on offering a full suite of services in a private setting with transparent reasonable pricing. Let a free discussion with Dr. Fowler provide a clear pathway to your goals of improved body shape.
Liposuction is likely the most effective body contouring procedure short of actual surgery. It can produce substantial reductions in body fat in addition to noticeable body shape changes. We perform Small and Large Volume liposuction. Procedures are performed in office, with quick recovery. You can decide to be asleep or awake for the procedure.
Click here to learn more about Liposuction procedures.
After removing fat during a liposuction procedure, patients can have the option of using the removed fat to augment a particular body are. The fat is essentially prepared and injected into the area of interest. Common areas for Fat Transfer include the buttocks, breast, face, and post-trauma soft tissue defects.
Click here to learn more about Fat Transfer.
Dr Fowler has teamed up with Dr Crabtree to create the Hawaii Center for Body Contouring Surgery. We specialize in patients who have undergone significant weight loss. HCBCS offers all procedures associated with body contouring surgery. This includes Tummy Tuck, Arm Lift, Thigh Lift, Breast Lift, Buttock Lift, and Complete Lower Body Lift.
Dr. Thomas Crabtree's and Dr. Steven Fowler's expertise in both Cosmetic/Plastic Surgery and Bariatric Surgery will insure positive outcomes and patient satisfaction.
Click here to learn more about Body Contouring Surgery
Click here to download our Brochure